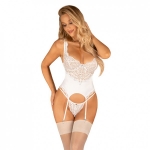 How to arouse and excite your man? How to re-ignite the little sparks of passion into a full-scale fire? Try on a new role! Sexy lingerie, stockings, role play dresses and many other items – there is a huge selection for both petite women and those with zaftig shapes.
Even though there is an abundance of sexy wear we know very little about it. Superstar.lv will help you choose the right size, will tell you what to look for when making a choice and will finally show you this season's lingerie trends.
Corset
Very little material, few buttons and fastenings are used to make lingerie, making your body look super sexy and reveal the most intimate bits. Historically the corset has been the most popular lingerie type.
Sexy lingerie
The corsets are made of silk, satin, velvet, leather (patent or supple), bud silk and other fabric. The corsets for special occasions usually are less tight and feature decorative details - ruches, trimmings, bow-knots, laces and ribbons as opposed to plain, everyday corsets.
There are four types of corsets:
Waspie is a short corset that is basically a wide belt that is wrapped around a stomach. Go for this one if your aim is to show everything.
Underbust corset ends right under the breast. Women wearing underbust corsets look alluring as well as slimmer due to the tightening it provides.
Halfbust is by far the most popular type of corset. It looks sexiest as it pushes the breast up and leaves the most exciting parts of the body semi-covered and we all know that a scantily clad woman looks sexier than a fully naked one.
Finally comes the classic corset. Not only does it trim the body and makes it an hourglass shape, which men think is the sexiest, but it also fits many personal styles and preferences whether your or your partner's.
The choice of fastener type will depend on the corset's purpose.
If you need a tight corset that trims the body – chose the corset that is laced-up. Those who prefer a less tight corset should choose the one that zips-up or with the so called busk (hooks and eyes) closure.

Choosing the right corset size is of equal importance.
First, you need to decide what exactly do you want – to exaggerate the best parts of your body or to hide those that make you less confident. If the former is true then choose a corset that fits your size, otherwise go for a 1 or 2 sizes down or leave a 10-15 cm for the tightening.
In 2012 lingerie designers and manufacturers offer corsets featuring ruches, ribbons, rhinestones, beads, fringe and even the peacock's feathers. Various prints are popular too e.g. leopard and polka-dotted. Retro and Renaissance-style corsets are one of the latest trends now. Sky-blue is currently the most popular colour now.
Cupless bra
Already own a corset? Buy yourself a cupless bra then. It is called cupless because it either lacks cups or they are fitted in such a way so that the breast is visible.
It is quite easy to choose the right one, simply buy the same size as your everyday bra. There is a great selection of cupless bras.
Your choice depends on your temper and how relaxed you are. Leather cupless bra with studs will suit those with spicy love life, whereas passionate and sophisticated persons would prefer lace bras.
If you do not feel like wearing revealing bras, then have a look at the double push up bras.
They are suitable for everyday wear making even the smallest breasts look attractive.
How to increase your size from AA to B and from B to D? Superstar.lv has the answer to the most popular questions that women ask – How to increase breasts at home?
La Senza and American Eagle are bra manufacturer's brands that make many women's dream come true.
Choosing panties, bodies and nipple pasties
Panties
Sexy panties will make your sexy look complete. As well as traditional crotchless panties there are more promising products.
G-strings partially cover your front but fully expose the back and there is no need to take them off when the time comes. Another exciting option are the panties that look completely unprovocative from the front, however at the back there are only two straps. There are crotchless panties with small beads for those who looks forward to a new experience.
You can select a less provocative undergarments – sexy panties, suitable for everyday wear. There are many options available.
G-Strings with straps at the back. The straps can be replaced with the rhinestones, lace, decorative butterfly or a flower and even a big bow-knot.
Thongs or bikinis that reveal seductive shapes.
The material used to make these panties makes them so arousing. These include lace, guimp lace, silk etc. They are often decorated with ruche, ribbons, bow-knots, beads and rhinestones. There are also black and red panties made of soft, stretching fabric - for those who prefer minimalistic underwear.
Nipple pasties
Pasties are an interesting and exciting accessory. Use them when you want to show your man pretty much everything but do now want to be totally naked.
They come in various shapes like hearts, stars, flowers, simple round pasties, with or without the tassels, decorated with beads and sequins, in different colours and made of wide range of materials – to suit any taste.
Pasties by the way are a life-saver when it comes to low-cut dresses when your usual bra just won't do the trick.
Body
Body and playsuits are other pieces of the sexy underwear range. They are made using a see-through fabric, fishnet, leather, latex. The most popular items are made of lace. Hooks and eyes type of closure is made discreet under the fabric or on the side. Shy women can put the body or a playsuit on top of their underwear, but the relaxed types usually put them on without the underwear.
It is easy to get the right size of these lingerie type. Usually the sizes are the same as ordinary underwear. Many manufacturers offer universally sized bodies and playsuits– One Size or One. If you are not taller than 178 cm and your weight does not exceed 75 kilos this is a safe option for you if you like the looks of the item. Wine-, cherry-coloured and fuchsia are the most popular colours this season.
Accessories
You must remember to add hot accessories in order to make your seductive look complete.
Sexy crotchless tights would be ideal for adult games, however some would like to wear them under their dress to tease their men and encourage them to take the tights off as soon as possible.
Choose fishnet/lace, printed or seamed stockings – men think that those are the most seductive stocking types.
You need to take the following into account when choosing stockings suspender. Firstly, it should be made of stretching material, silk being the best. Secondly, quality fasteners are a must. They must be easy to use and allow to adjust the length.
***
The most important thing about choosing sexy underwear is to follow your feelings. Ideal lingerie will make you feel comfortable, confident and sexy! In this case your man will realize how beautiful you are! Superstar.lv wishes you to find that one special model which will work its magic over your man.